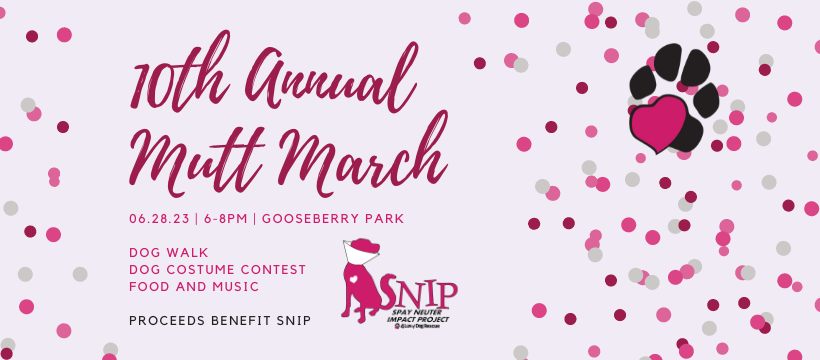 10th Annual Mutt March
Join us at Gooseberry Park in Moorhead, MN on June 28th from 1 to 3 pm for the 10th Annual Mutt March! Pre-registration is open until June 10th. The pre-registration is cheaper than registration on the day of the March and guarantees a T-shirt in your specified size. Additional T-shirts can be purchased for $20 each. Registration is $35 on the day of the event, and T-shirts will only be available then while supplies last.
Register via our website: https://www.4luvofdog.org/mutt-march/
What's a Mutt March? Glad you asked! It's just as the name implies: It's a parade for our dogs! Personal pets, foster dogs, 4 Luv alum… They're all welcome to dress up and take a nice leisurely stroll through the park on a beautiful day!
This year's event will take place on a Wednesday evening, so you can keep your weekend free for all those fun full-day summer activities! (Gotta take advantage of that sunny weather while we can!)
In addition to the walk, there will be a dog costume contest, photo booth, dog-related vendors, and more!
This fun-filled evening includes:
– Dog walk around the park
– Dog Costume Contest
– Puzzle Games
– Dog Art Station
– Corn Hole
– Music from Renegade Sound and Light
– Food trucks
Volunteers will also be on-site to provide microchipping and nail trims. Microchips are $25 per animal, and nail trims are $8 per animal. Cash payments only will be accepted.
** This is a family-friendly and dog-friendly event. Please make sure dogs are leashed at all times. **