18 Sep

Happy Tail for Bean!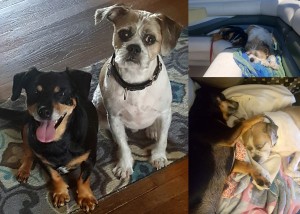 Hi everybody! I am Bean and I'd like to tell you my Happy Tail! My parents adopted me about a year ago. They also adopted another dog I had never met before named Coors. Before I got to 4 Luv of Dog, my human passed away, so we had to go to foster homes. However, when I got to my new home, I adapted to my new mom and dad pretty quickly. I have separation anxiety and a little OCD, so at first it was hard for me when they had to leave for any length of time. I still have that anxiety but it's definitely not as bad anymore. I now know that they always come back and that I'll be able to live with them forever.
When I arrived in my new home, I was given the job of teaching my new brother a few things about being a dog. It's a good thing I'm a good teacher and am very excited about everything I do! He was so scared so I taught him how to play with toys, especially squeaky toys – those are my favorite! I think he likes me a lot and I secretly like being with him too. I'm sure glad I have him to help keep me calm when our parents have to leave to go to work. I also like to sleep with him because we keep each other warm. Did I mention I love squeaky toys? Throughout the day I really like to gather every toy I can find and put them all on my parents' bed. (I used to hoard them in my kennel but we don't have kennels anymore.) So every night before we all get into bed, either dad or mom has to try to sneak all the toys off the bed and put them back into our toy box. If I catch them trying to do this or they accidentally squeak one of the toys in the process, it really bugs me. So then I have to go dig a toy or two back out of the toy box and put it back on the bed before we can go to sleep.
I am definitely a snuggler and I love all kinds of affection. I especially like getting belly rubs and will present my belly to pretty much anyone who is present. (FYI – it almost ALWAYS works!!!) I also LOOOOOVE going for walks. I must mark every single tree and usually pull my parents along – I wish they would walk faster, or even run! We've been getting to go on more and more trips lately and sometimes I get a little nervous in the car. But once we get there I adjust well. I hear we get to go back to Itasca State Park next weekend. Maybe this time I'll stand still for a picture by the Mississippi headwaters. I especially like to go to the lake cabin. Even though I don't like the water very much, I really like pontoon rides. Dad lets me sit in his lap and be the co-captain and it makes me feel pretty important. We also like to take naps during pontoon rides because it's so relaxing. Well, I guess I like to nap anywhere, really. I basically run at two speeds – go-go-go-go-go and napping. I'm very good at both.
I am very happy living here and my parents seem to like me too – my mom tells me she loves me several times a day and gives me kisses. I am so glad to be part of this little family. Thank you 4 Luv of Dog for taking such good care of me in the meantime. You are all such very special people.