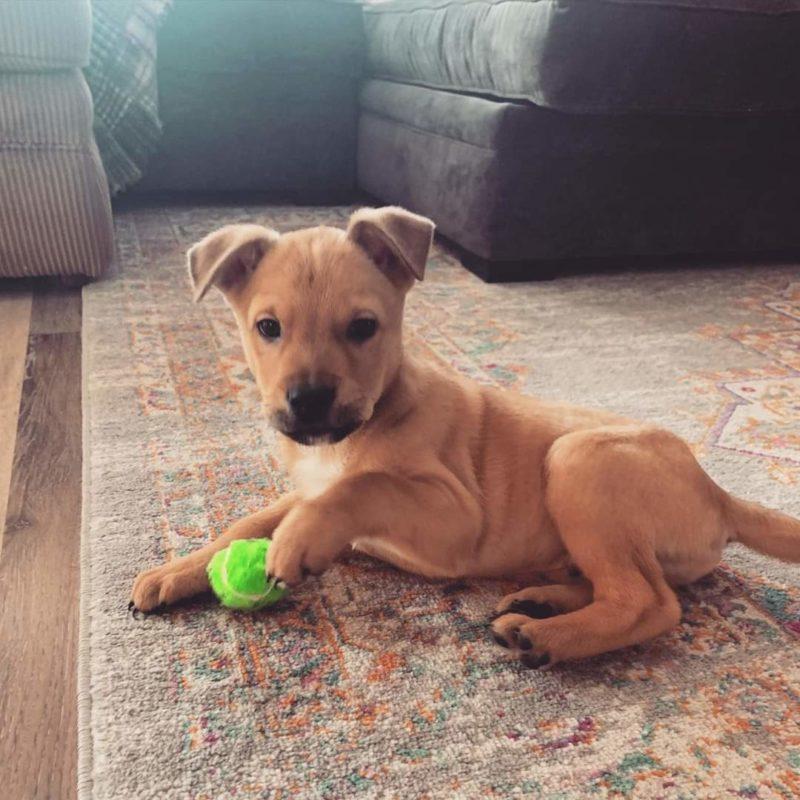 25 Dec

Happy Tail for Benny (FKA Deville)!

This January my husband and I made the trip to Fargo to look at two puppies and as soon as we met Benny we knew he was supposed to come home with us. We bundled our little 11lbs runt up and took him on the journey home, we couldn't believe how sweet and relaxed he was.
As we laid down that night my husband and I giggled because we had adopted a dog, arguably the best dog! In a moment of perfect comedic timing Benny started to cry that started a several week period of slowly transitioning him from sleeping on our chest to his kennel.
Although there was significantly less sleep than we had imagined, we got to know and fall in love with Benny. We're fairly certain he's the smartest pup and brag about him every chance we get. We may be first time puppy parents but we think it's pretty darn impressive he was completely potty trained in less than two months and that he can learn any trick in a matter of hours and retain it.
Aside from that, he is the sweetest most gentle animal we have ever met. We have a little girl and were nervous about the transition, but Benjamin is kind, patient, and loving. Most recently our daughter has raced up the stairs so she could show him her newest picture and requested that he put her to bed. Ben refuses to leave her door closed and will bust through to check on her at all hours all while making sure to tip toe around toys so as to not wake her up.
It's hard to pick a favorite thing about our Benny boy, he is painfully clumsy, and an excellent snuggler. However, I think best of all is how well he compliments our family as cliche as that may be. I don't know what we expected when we adopted him, but we sure lucked out.
We're so so so thankful to have Benny as a member of our family and know that part of the reason he is such an incredible pupper is because of his foster family. We had big shoes to fill when we took him home because his family loved him an awful lot and helped to teach him what it meant to be part of a family.
We love Ben and cannot wait to continue to love on him!