06 Mar

Happy Tail for Bentley!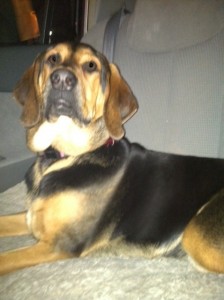 We love our Bentley (formerly Brunhilda)! We adopted her last September 2011 and she's a great addition to our family. She came to us as approximately a 9 week old puppy that was a bundle of curiosity. Not going to lie, she was definitely a "nipper"! She has tore her way through her share of toys, shoes, drivers licenses, credit cards & carpet. Luckily we're past that stage!
Now she is a confident 8 month old puppy who loves to lay in the sun and take naps on her "special chair" or the couch.  It's so fun to come home every day and have her wag her ENTIRE body because she's so happy to see us. She has her own unique personality that we love.
She is one of the most loving and care free dogs we have ever met; she doesn't have a mean bone in her body. We couldn't imagine our lives without her.
 Chris & Allie Paul