06 Oct

Happy Tail for Betsy Rose!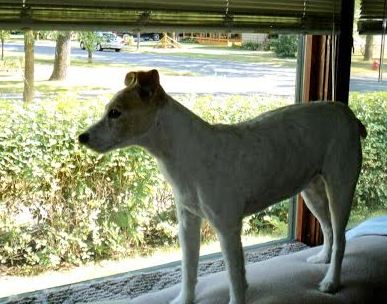 My name is Betsy Rose; I was called Betty White when I was living with you but when I came to live with Grama Jo, she changed my name.  I love to sit on the back of the couch and look out of the window where I can see a lot of the neighborhood.  A beagle named Lucy lives next door and we don't hit it off too well.  I like to go for walks with Gram and also for rides in the car. 
We go to the Dairy Queen once a week and I get a puppy sundae with a milk bone.  Gram gets a pecan mudslide and one day when she wasn't looking, I took a lick of her sundae; it was very good. 
My cousin Amber volunteers and she is an officer for the MN Humane Society.  She is the one who told Gram Jo about me and so here I am loving my new home.
Gram says that I am definitely a keeper and I haven't had an accident in the house in the 16 months she's had me.  She tells everyone about me and tells people to choose a pet from the shelter, you won't be sorry !!
Sincerely,
Betsy Rose