15 Feb

Happy Tail for Bram!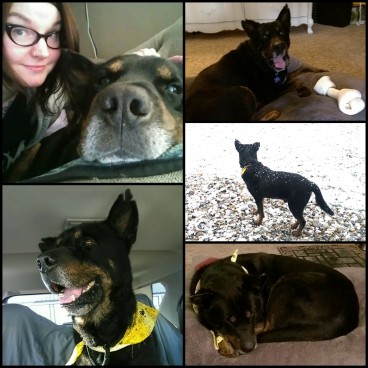 In late October, my dad, who has volunteered with the rescue for many years, told me about a road trip he was taking to rescue a male dog. A few days later, just out of curiosity, I checked the 4 Luv website to see if the dog he'd rescued was listed. I saw Bram (formerly Braham), and, based on my dad's description, thought he might be the one. Turns out, he wasn't. I showed his picture to a couple of my friends, because I thought he looked like such a sweetie, and that was that. Or so I thought. 
Three weeks passed, and I had not been able to get Bram off my mind. I wasn't looking to adopt a dog. His wasn't the first listing I'd seen from a rescue. Lots of dogs, sadly, need homes. But there was something about him that wouldn't leave me alone. After more than a week of questioning myself and my capabilities, and talking with friends, I decided I had to try to give him a home. He's large, he's black, he's a senior, and he's cosmetically flawed, which, to many, means he's unadoptable. I knew I could not sit back and not at least try to save his life. So, I submitted an application.
Bram and I met on November 22, 2016. A friend of mine captured our meeting on video. It was love at first sight. He gave me his ball – something I was told he just did not do, and I knew I was chosen. He came home with me on November 23. On the drive, he didn't stop smiling. He leaned over and licked the side of my face. I cried, and promised him (yes, out loud) that I'd take care of him for the rest of his life.
Today is February 15. To this day, he has not had one accident or marking incident in our home. He hasn't chewed anything he shouldn't, damaged the apartment or anything in it, or been aggressive. He greets people at the door with sniffs and kisses instead of barks and jumps. He's been a great listener and learned from the start, and only improved with his weekly classes at Down Dog, from which he's since graduated. Everyone who's met him loves him, and he's become something of a social media star. Facebook and "Instabram" posts about him are always hits, and I get requests for pictures and videos of him on Snapchat almost daily. This "unadoptable" dog is the ultimate good boy, despite a rough history.
In addition to the notches on his ears, Bram has a lot of external scarring around his neck from either a chain or a rope being used on him at some point in his life. He also has internal scarring, which caused a limp and limited mobility in his back right leg, from some kind of injury. There are a handful of physical and behavioral issues that point to an unfortunate history of abuse.
Still, in spite of these things, he dances when I scratch or rub his rump and hips, and he perks up his ears, smiles, gives me kisses, and wags his tail when I scratch or rub his neck while telling him that he's my beautiful boy. He now sits, lies down, and climbs stairs with ease, and his limp is long gone. His resiliency inspires me. I love him so much, and am so grateful that I found him. We've been together for almost three months now, but it only took a few days before I had a hard time picturing my life without him in it. 4 Luv didn't just change his life – they changed mine. We are both "furever" thankful.