21 May

Happy Tail for Charlie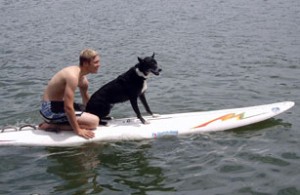 Here are some pictures of Charlie's newfound hobby and his best kitty friend. Though not really built to be a swimming dog, he refuses to be left behind if the boat heads "out to sea" with his favorite buddy Steve on board. He has been swimming a lot lately, trying to keep everybody safe and herded into the shallow lake waters. He also throws all caution to the wind and jumps right off the end of our dock with anybody willing to jump with him.
This week while camping, we introduced Charlie to some family dogs and he really had a blast chasing and rough-housing a bit. There were so many sticks to fetch and smells to investigate, Charlie was living like a king. He tolerated a lot of love from the younger children in my family who all wanted to be with our new "puppy". The dogs and children would run around like crazy, tire themselves out, and then have a good roll in the dirt just to finish the day off right! Of course then another jump in the water was in order so everyone could be allowed back into the trailer without leaving a dirt trail.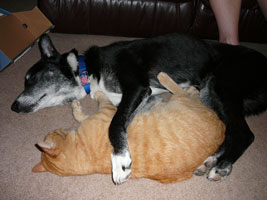 Charlie's stamina and pep continue to make me believe he's a younger dog than appearances suggest. He is quite the runner and doesn't want to be left out of any adventure. We are all very happy he is here to stay. It seems funny to think that Charlie was only meant to be a foster dog, since it feels like he was supposed to come here to us.