28 Nov

Happy Tail for Frannie!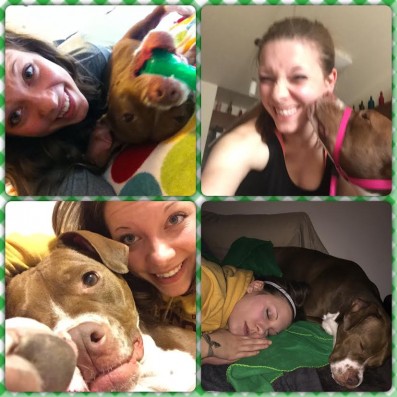 Hi! My name is Frannie! I am a cute 2 year old pittie mix that was adopted in January of 2015. I have learned so much since I was adopted and continue to learn new things every day. I now know how to sit, stay, leave it, lay down, roll over, and shake hands. All of this learning has made me more confident. I even took puppy classes to help me with my anxiety and reactivity to new things.  I LOOOOOVEEE to bark, but my mom is teaching me that not everyone and everything requires me to be scared or anxious. My mom takes me on runs all the time and I'm getting a lot better about not barking at the people on bikes or trying to chase cars. What can I say, I have TONS of energy!
I also spend a day or two a week at Rover's Playhouse for daycare while my mom goes to school and work. Daycare is so fun for me because I love playing with the other dogs and getting attention. This week I was MVP at the daycare Puppy Bowl and won myself a free bath for playing so good with the other pups and the toys J Daycare is so great for me, I always fall asleep in the car on the way home because it makes me so tired!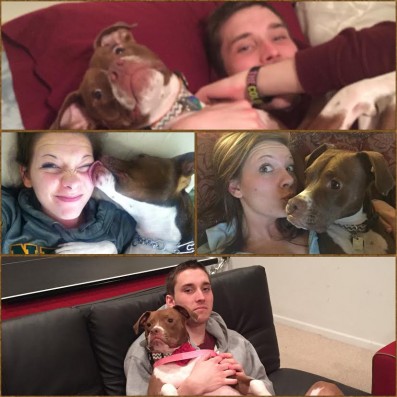 I also got boarded this summer when my mommy went away for a weekend, and the staff there loved me! I'm a pretty likeable gal if people can get past my barking when I meet them. I guess I need to work on that because some people don't like when I bark, but I just get so excited and I need to learn better ways to show my excitement.
My mom says I have a goofy attitude and that I can sometimes be a Diva. I'm not quite sure what a diva is, but my grandma, grandpa, and dad say it's because my mom spoils me so much. I like being spoiled though because it usually means I get peanut butter kongs or treats! I really don't like rain or snow, and usually refuse to go outside and potty when it's icky out, so my mom had to get me a jacket and some booties. My dad says I look ridiculous, but my mom sure thinks I look cute!   
Overall, my life is pretty great. I have lots of people that love me and get to meet new people and dogs all the time. My mom takes me for lots of car rides and on vacations which I love because I really like to sniff out new things and ride in the car. I am a happy go lucky pup and I can't wait to see what the future holds with my forever family!