03 Apr

Happy Tail for Freyja!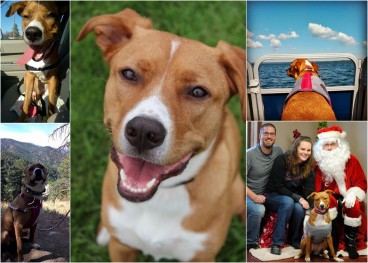 Freyja (previously Michonne) joined our family April 6th, 2015 and it has never been the same.  Our time together started out a bit rough, as she had not had much in the way of behavior training and had no idea how to let us know what she wanted.  After joining training classes and spending lots of time working with her, Freyja has come leaps and bounds from where she was when she first stepped into our home.
Since getting her we have learned that Freyja will do just about anything for food, except roll over.  She loves to swim at the lake, go out on boating trips, and loves long walks.  She has even made a few dog friends at the dog park, which is somewhat difficult for her. 
In October of 2015, we went on a road trip to Boulder, CO.  Once we were in Boulder, she got to go on a hike in the mountains and we even found a fenced in dog park with a walking trail and a lake.  Needless to say, she was in heaven!
Freyja has changed our lives so much in the year that we have had her and we cannot imagine ourselves with any other dog.  She has tons of energy and it has inspired us to become more active, to spend more time doing what she likes to do.