03 Nov

Happy Tail for Friar Tuck!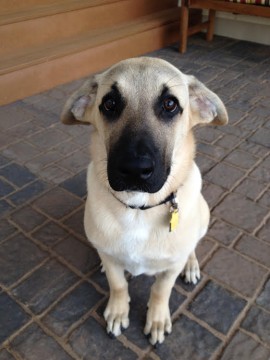 We would just like to thank 4 luv of dog for giving us the opportunity to adopt Friar Tuck! We have had him since late March and he was about 8 weeks old when we adopted him.  He is growing fast and he was just into the vet recently and he weighed in at 67 pounds.  Big paws and thick shoulders give us the impression he could grow to be a big boy!
It has been such a blast becoming dog owners and he is the perfect fit for our family.  He is a shy dog but he warms very quickly and is very sweet and well behaved and loves to play.  And play, and play!  He loves his new doggy door and takes full advantage of the yard to run around and find spots to dig, fortunately its usually in our sandy fire pit area so he's not too hard on the lawn!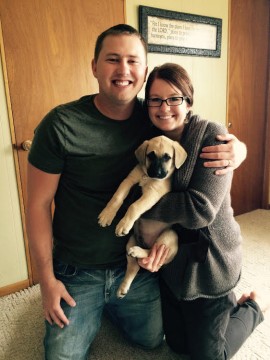 He loves our walks in the evenings and playing whenever Sarah or I have the energy, he always does!  He likes cuddling with Sarah in the mornings as apart of her morning routine before she heads off to work and when I get home from work we usually like to have many tug of war battles and games of fetch.
He has quickly met our families and loves going to the farm and to the lake to see each of them and visit, and stay a few nights on occasion.  He has fun with all his cousin dogs, and his grandpa golden retriever at the farm!  He has learned some good lessons from him.  We are trying to make him a champion swimmer at the lake and he is taking his sweet time getting his sea legs but he has fun splashing for now, and lounging on the boat, maybe swimming soon haha.  
We are very proud of the dog our puppy is growing into and hopefully we are giving him and teaching him all he needs to be a good dog and to have a healthy happy life, thank you again to 4 luv of dog and we hope you like the pictures!
Kent and Sarah Sannes