16 Feb

Happy Tail for Hans!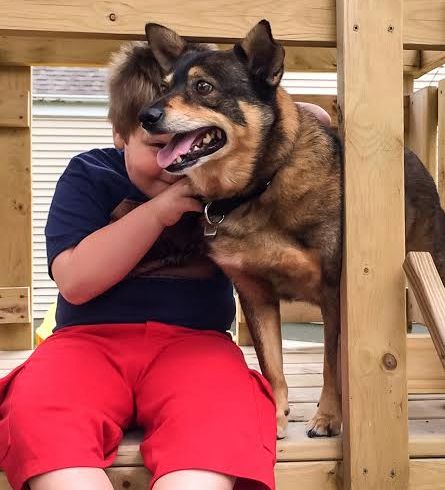 A little over a year ago Hans came to live with our family. I had been wanting a dog for years and causally perused the 4LuvofDog website looking for a dog to fit our family.  One day I saw Hans's profile and thought he would be a perfect fit. We met him, fell in love, put in our paperwork, and then got the news that Hans had already been placed. We were so bummed. Fortunately for us, that placement didn't work out and on my birthday Hans came to live with us. Got to say it was the best birthday present I've ever gotten. Hans was very anxious the first month but slowly he came out of his shell.
We had ordered a bed online for Hans but it didn't get here before he came to live with us. In the meantime we made a bed out of old quilts at the foot of our bed. Hans slept there for the first three nights, but on the fourth night he jumped onto the foot of our bed and snuggled in. My husband  had said he didn't want a dog on the bed. But Hans gave my hubby the sad eyes, licked him, and curled up by his feet. Well the hubby's heart melted and Hans has been sleeping at the foot of our bed since.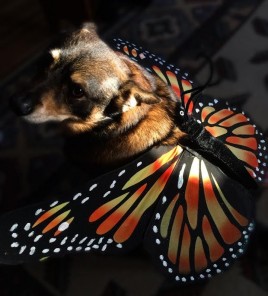 Our little boy has a speech disorder and Hans has made the biggest impact on him. Before Hans came to live with us it was hard to get our little boy to talk about anything. Our little guy is now always talking to Hans or about Hans to anyone who will listen. They are such good friends.
Hans brings joy to our family every day. He is always grinning from ear to ear. I enclosed one of the few photos of Hans not just beaming. We included Hans in dressing up for trick or treating. He was not impressed with our choice of butterfly wings. I guess they just weren't manly enough for him.  But, he has gotten over it and forgave us. He adds such a layer of joy and love to our family. Thank you for rescuing him until we could find him.