17 Mar

Happy Tail for King!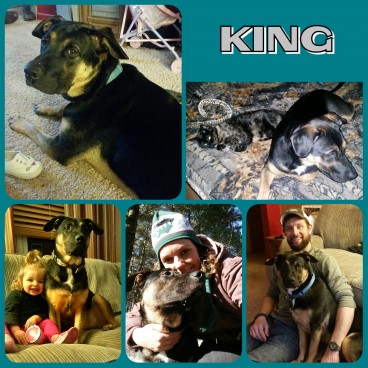 It is me, King!! Checking in after being away since Halloween! I wanted to let everyone at 4LuvofDog know that I am doing fantastic in my forever home. At first, I was a little bit nervous because it was a new place and new people and there was this little-sized human who followed me everywhere and a small furry, feisty creature who wasn't very happy about me coming into her space. But after time – and some training with Dad – I am happy to say that all members of my new family are happy I came into their lives… except, Lola, the small furry creature, she still isn't too fond of me. But working on it. Take a look at the picture I sent, we can lay on the bed together and she doesn't get too mad, as long as I don't interfere with her sleeping space! 
Besides Lola, Mom was the hardest to win over. She was worried about how strong I was and nervous about taking me outside or on walks when Dad wasn't around because I pulled on my leash. Dad worked really hard to get me trained and now I can go on walks without a leash – when we are in a safe area of course! 
The little-sized human has become my best friend. She is always happy to see me every morning. It makes me feel like a rock-star! She cheers my name, "King,King!" and always tells me I am a "good boy!" She loves to climb on me and sit on me and I enjoy it, too! She sneaks me food, which Mom and Dad are working on stopping, but is it my fault if I just happen to be walking by and my mouth falls open at the exact time the little human drops some food? I don't think so either. 
 I am happiest when I get to go on walks, especially when Dad takes me down by the river because there are so many things to smell and chase! 
Needless to say, I am so incredibly happy to have found a loving home to grow up in. I know my family loves me and will always care for me and cannot imagine life without me now that we have gotten used to one another! Thank you for everything you did for me while I was in your care and for finding me a family to love! Oh, and my family says thank you, too!
Sincerely, 
King
Steve, Rachele, Madison and Lola