17 Apr

Happy Tail for Sadie!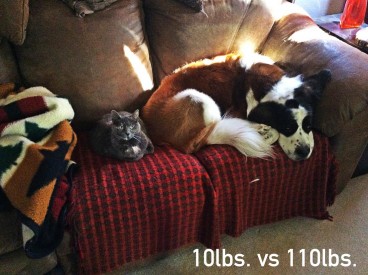 We adopted Saint Sadie last August. I had already rescued a cat (12 years ago), so once we finished the fence around our house, I knew I wanted to seek out a dog as a companion for her. I've always liked big dogs, yet never had one of mine own. Sadie's profile was shared with me, and it was decided that she'd be a perfect first dog for us since she was older (9).
My cat Sushi was not a fan of such a monstrous dog, but now they put up with each other and even sit next to each other once in awhile. 🙂 Sadie has been the best dog; I just love coming home to her face everyday! She loves playing with her many toys, napping on the couches, and her daily walks around the neighborhood (when kids call her Beethoven and ask to pet her).
We are so lucky to have her. Thank you 4 Luv of Dog Resue (& Sadie's foster home!).
{from Sybil}