24 Jun

Happy Tail for Simon!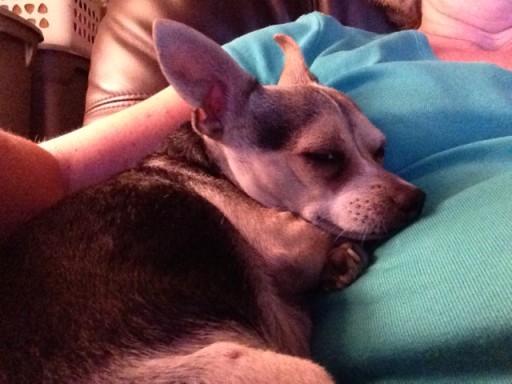 I'm Rosemary and just wanted to let you know that Simon the Chihuahua, who was adopted by me in August 2014 from 4 lov of dog, is really doing well here. The last 2 years have flown by.
Simon is 10 years old now and shares the home with my husband, our other rescue Frankie the Minpin (from Marshmallow Foundation in DL)  We've had Frankie for 6 years now.  We have a 13 year old cat since she was a kitten, Bella, as well.   Simon doesn't like cats (he ignores them totally)  NOR does he like men with baseball caps on.   We all have our quirks.
Simon is enjoying either sitting in the sunspots with his brother (Frankie) or napping contentedly in bed with Frankie.  And then he likes to protect us all from baby bunnies that are outside and then also loves to snuggle in the evenings.  He also enjoys eating,  ear scratches and walks in the yard. 
I wish everyone would know that to adopt a senior dog is all pure joy and I'm glad that I get to have them in our lives.
Thanks again for allowing us to have Simon join our family.  He has a great retirement! 
Rosemary Sandau