22 Jun

Happy Tail for Thea!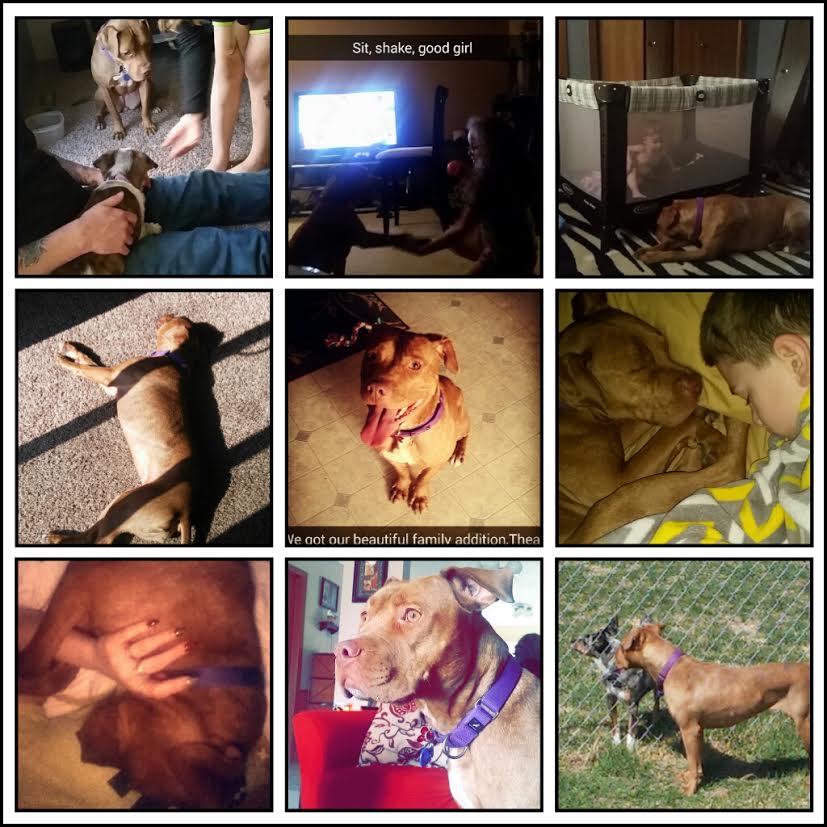 Thea Jayne's journey with the Andersons
What can I say about our little girl that everyone else doesn't know? Thea is a delight and the perfect addition to our home. We have battled a few hurdles in the 3months we have became her family. When we got her we knew she was dog agressive. I took extra precautions but someone let her sneak out the front door and she caught a little guy (puppy). Thankfully, his parents were very understanding and such a pleasure to get to know. Although the vet bill was high some of the lovely ladies of Thea's life pooled together to help pay the dogs bill. They also worked with me on the payment. She has gotten mad at mom a couple times (when theres something different about our house) and took it out on my bed by trying to mark it (whoops) She learned after 2 kennel nights that we dont do that and sleeping with her mommy is so much better.
Ok those were her hurdles, lets talk about her progress!!! Thea can now go out in the fenced yard off leash!! Yay! And she loves it. Her anxiety still kicks in when she sees a little dog, a bike, bunny, or her kids are out of her sight. She LOVES LOVES LOVES her human siblings. She gives tons of puppy kisses and even more puppy cuddles. She is now very gentle with them and loves to play! Going for walks has become a little better, we found evenings are a better fit for her. At her babysitters/moms friends place, he has a huge fenced in back yard. With around 5 dogs that connect in the other yards. (Chain link fenced) she loves to run back and forth with her boyfriend and his brother. Its actually extremely adorable. She has been trusted to be near other dogs through the fence and them walking by when she is in the front yard and she has not been naughty!! THIS IS HUGE FOR HER! Thea loves babies. My god daughter has sleepovers (shes 1) and she loves to fallow baby around and get some of her snacks she drops along the way. She also lays down by her bed and make sure she is ok. She is definitely a momma bear. She also loves baby pups. She is not affected by them being around her and actually wags her "happy tail" checks them out and goes on about her business, checking on them periodically. (She met a pitbull/lab mis girl pup last week) She also does wonders at her groomers! First time we walked in there were 3 roaming cats and she didn't even let that bother her, and she shared a room with a lab while getting dolled up. All in all her progress when it comes to animals has tremendously changed. Although, i still have the same precautions set in place for her safety.
Thea's favorite treat is an animal cracker. She still loves rawhides and peanut butter, and her dental bones. She will show off all her tricks for one! More like 5 because she is so cute! She has mastered sit, shake with both paws, give a kiss and working on lay down and roll over is our next one.She still snores like a grown man and loves her belly rubbed. Any opportunity she gets to cuddle she will plop down and not move. She is known to try be a lap dog and usually gets her way. She also loves to go shopping and car rides. She even puts her head in her leash if you grab it and open it for her. Sunbathing on a nice afternoon when its quiet in the neighborhood is one of her favorite things to do.
All in all Thea has brought such joy to our family and completed it. She wins over everyones heart who meets her. I knew from the moment she walked out of her bedroom at the shelter that she was the perfect fit to our home. So much so that she literally brought tears to my eyes the moment I laid eyes on her. She does wonders for my sons mental health. Plays dress up with my daughter, even wears one of my coach purses lol. she knows when they are sad and need a kiss, she listens when we tell her secrets and gives her hugs. As i write this she just opened her kennel to get her toy to play fetch. She even brings it to you and puts it in your hand or lap. That's  her cue that she wants her playtime. Anywho I hope to have an even better update on all the progress and wonderful things she will accomplish down the road.
Lots of wet kisses from Thea, Danielle the pitbull mommy and her human siblings.
Thank you for giving us the opportunity to adopt such a sweet, and beautiful girl. We will continue to give her love, guidance and patience. She trusts us now and knows we are her "furever" home 🙂