17 Apr

Happy Tail for Toby!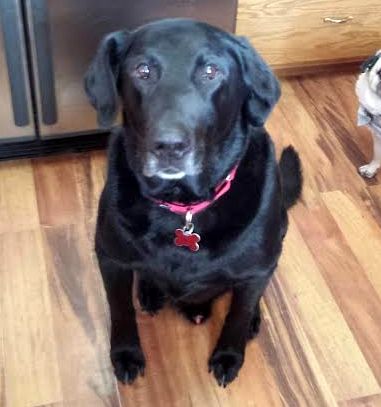 We have a Happy Tail story for you.  On Christmas Day 2014 we received the best present ever.  He came to our house with a big red bow around his neck.  He is a 9 year old black lab named Toby, who Cam and Julie and family had fostered on at least two separate occasions doing a fantastic job.  Toby had been a nursing home dog at Elim Nursing Home in Fargo and so many people there were in love with him.  Unfortunately he had separation anxiety when the staff went home for the night and so things didn't quite work out.  We first learned about Toby from a friend who worked at Elim and she felt we would be the perfect situation as a forever home for Toby.  I've been retired for 2 years and my wife only works a few hours a week meaning separation anxiety won't be a problem for Toby.  We also have other dogs so he has plenty of buddies.  The day he walked in I could tell it was meant to be. Not one of our dogs barked at him and it seemed like they knew he belonged here too.  He walked straight into the family room, got up on the couch and went to sleep.  That is now his couch.  He has got to be the sweetest dog; Never anything but happy.  We were so lucky to be chosen his new family.  He had major hip surgery(Femoral Head Osteotomy) on March 5th, which 4 Luv of Dog Rescue had already made arrangements for along with pre and post physical therapy and any necessary medications.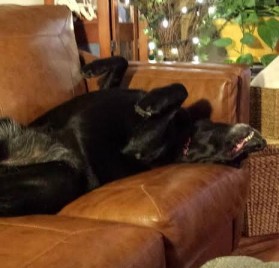 The veterinary care was provided by Casselton Veterinary and covered by 4 Luv of Dog Rescue, which demonstrates the kind of commitment and dedication this organization has to the health and well being of their sheltered dogs.  He is recovering now with pretty much constant supervision so he doesn't lick the incision or jump or run.  He is making great progress and we continue to work with him on his physical therapy.  The right back hip had been pretty much bone on bone and he had a lot of pain.  When they performed the operation they also discovered he had a 1/2″ to 1″ round piece of calculus in the joint as well, that literally popped out when they opened up the joint.  When they perform this operation it is not unusual for the top of the femur to split slightly.  Unfortunately, in Toby's case the entire femur split for some unknown reason.  This required that a plate with screws be attached to the femur and his recuperation time be lengthened to 4 to 6 weeks.  At this stage in his recovery he appears to be coming along very nicely and its a challange to slow him down.  We take turns watching the "big lug" so all should be back to the new normal soon.  We can't thank 4 Luv of Dog Rescue and Cam and Julie and family enough for taking such good care of Toby.  We could see how closely attached Cam, Julie and family were to him when they brought him to us that Christmas Day.  We also want to thank them for all their willingness to help with Toby in any way they can.  We love our Toby and hope we still have many many years with him.  Adopting older senior pets in itself is so rewarding.  They have so much love to give.