07 Mar

Happy Tail for Tracker!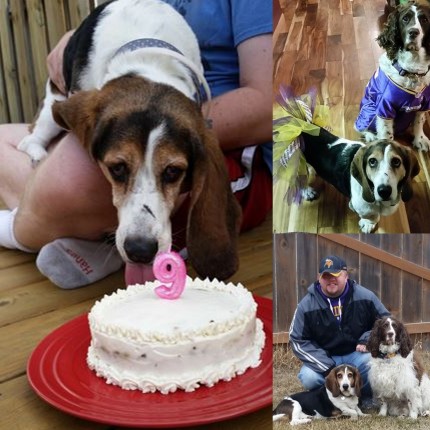 We met Tracker in February of 2016 while on a random trip to PetSmart. We were casually talking about adding another fur-baby to our family, but weren't really looking. On that particular day, 4 Luv of Dog was having a Meet the Dogs day. We stopped at each dog and played for a little while and chatted up the foster parents. We were just about to leave, when my husband saw a precious little (not so little) lady looking right at him. I saw the look on my husband's face, and I knew he fell in love. We walked over to where she and Gale (Tracker's foster parent) were standing, and Tracker instantaneously rolled over for a belly rub. That sealed the deal for my husband. While my husband sat on the floor and fell more in love, I talked with Gale. Before I knew it, we were walking Tracker around the store, and I fell in love.
One week later, I was on my way to Gale's with Copper (my handsome fur-baby) to have them meet and bring Tracker home. I was really nervous about Copper and Tracker meeting due to Copper having some social anxiety. Within a half hour, they were both getting along well enough to know that within a few days, they would be inseparable.
Fast forward a week, we were becoming a very happy little family. Tracker and Copper acclimated to each other really well with little to no issues. And we found out who the real princess of the house was. She figured out that those belly rubs were the best way to get out of trouble with her daddy. We also had our first vet visit within this first week. I felt horrible having the second car trip I have ever took her on was to go to the vet due to a deep sliver in her paw that became infected. Poor thing was stuck in a new home with a new brother and having to wear an e-collar. But, she still made sure that everyone knew that she was the princess sore paw or not.
From that week on, we knew that we were hers. She had become our second child. We couldn't imagine our lives without our independent, stubborn, bossy, loving, cuddly, goofy, little girl. She had filled a little spot in our hearts that we didn't know was empty.