04 Apr

Happy Tail for Wyatt!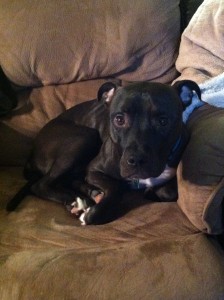 My boyfriend and I met Wyatt for the first time at a meet and greet at Petsmart in February.  We immediately fell in love, we had him over for a home visit/play date with our year old Olde English Bulldog Mix. They played the entire time and Wyatt seemed reluctant to leave his new found best friend! Wyatt had no problem adjusting to his new home and very easily became another part of the family.  
Wyatt is a lover, he will kiss our faces until they are full of slobber! There is never a dull moment in our home now that we have two dogs.  Wyatt is really smart and catches on really quickly. Wyatt has not met a person or dog that he hasn't liked yet.  He is a ball of energy and a great addition to our family.  Wyatt is very tolerant to his new brother pestering him.  They are usually found snuggled up on the couch together or wrestling on the floor.  We could not have found a better match! 

Thanks for the great care 4 luv of dogs gave him while he patiently waited to find the perfect family.  We are so grateful we were able to adopt Wyatt! 
Erin, Eric, Tank & Wyatt